Difference between revisions of "Annotatist Post"
From Technoscience
Line 18:
Line 18:
 
 
 
 
−

=== Annotation Prototypes and Use Cases ===

+

of the and that the are . a .'(.'a ://..com///-/

−

 

+

, have been ,,

−

Some of the issues and perspectives that emerged during the workshop are listed here. Definitely not a comprehensive list.

+

, and ...to in as . the the at :

−

 

+

://.//-to the the be .  

−

'''Benjamin Young (Hypothes.is) '''

+

that '----and a for

−

 

+
−

Made a [https://docs.google.com/presentation/d/1xe1xpt2UwvzpA9TZv9iEy-N9zAYXjbmhN-tfnhUT7mQ/present great presentation] of his work, which was very useful. There have been some collaborations between Benjamin, Dinesh, Onur, and Emrah... Hoping to put some more cycles in to that as time progresses.

+

-,-, . :

−

 

+

:-..of the is , , with and

−

Here is the Annotator 2.0 storage plugin that will (hopefully) facilitate the architecture we looked at:

+

and in of .aa and

−

[[https://github.com/bigbluehat/annotator-pouchdb Annotator Pouch DB @ github]]

+

-.The be that .  

−

A Firefox extension to support the federated annotations was in the working to be soon released.

+

''''', , and are

−

 

+

working on .the . is to

−

Benjamin thinks that ''This Sort Of Thing'' could be used for all sorts of

+

-:

−

content--not just annotation--and provide a foundation for

+

)

−

device-to-cloud, cloud-to-cloud, and device-to-device synchronization and data sharing.

+

:.

−

 

+

and have onlinein to and .a

−

'''Twitter Annotation'''

+

of --

−

 

+

with the of .  

−

Onur: twitter meta-tagging slide

+

a and .a

−

 

+

and to .

−

[[image:Onur-example-20150530.png|thumb | Twitter meta-tagging slide | right ]]

 
−

 

 
−

Tweets can really benefit from annotations. Much of the content is cryptic, context dependent, with abbreviations and hashtags emerging and dying in short periods of time. Annotating a tweet would be a fast and easy crowd-sourcing application. The annotations could be used for numerous applications that consume tweets.

 
−

 

 
−

'''Re-narration'''

 
−

 

 
−

Emrah, Suzan, and Dinesh are working on re-narration with semantic annotations. They are modelling the re-narration domain model via an ontology. This is ongoing work that aims to be completed October-ish :)

 
−

 

 
−

[[:File:renarration.pdf | A diagram explaining re-narration]]

 
−

 

 
−

'''Purposeful Online Communities'''

 
−

 

 
−

Murat and Suzan have been working on specifying purposeful online communities in a way to customize community specific information and workflow. Annotation seems to be a type of community activity that should be provided as primitive functionality -- with the possibility of customizing semantic tags.

 
−

 

 
−

We had a break out session with Labor Tech group representative Kavita and other interested persons. It was a very useful session and we hope to pursue this line of work.

 
 
 
 

=== Labor Tech (A Serious User Community) ===

 

=== Labor Tech (A Serious User Community) ===
---
Revision as of 14:10, 9 September 2015
AnnotatIST -- Annotate ISTanbul Gathering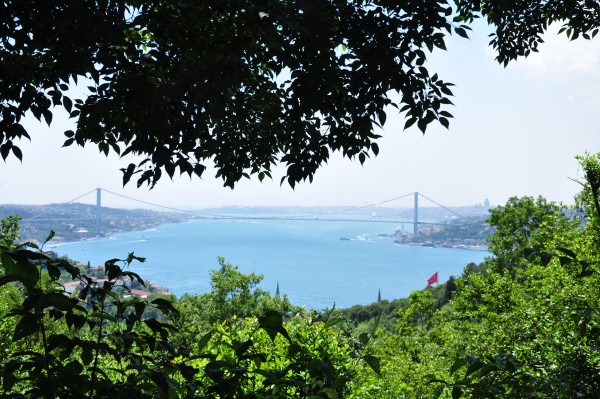 During 28-30 May 2015, a group of thinkers came together in a rather spontaneous meet up. A mixed group of annotation enthusiasts and curious met up at TETAM (elecommunications and Informatics Technologies Research Center) at Bogazici University, Istanbul, Turkey. A quiet campus surrounded by many old trees and a view of the Bosphorus - perfect for a retreat. Can't say how much the location had to do with a solid 2.5 day participation we all enjoyed and appreciated.
Participants: T B Dinesh, Emrah Güder, Onur Güngör, Lambert Meertens, Anil Menon, Kavita Philip, Fulya Sarı, Murat Seyhan, Sadık Tekgöz, Aslı Telli, Suzan Uskudarli, Orkut Yılmaz
---
Participant contributions
It was a busy 2.5 days indeed. During the workshop the concept of annotations, web annotations, and use cases were discussed. PhD and MS students whose work is related to annotations made some presentations. As usual, seeing triggers insights and understanding. The Twitter annotation model of Onur and the re-narration work of Emrah were considered as turning point for several participants.
A view of people at work!

Our guidelines prohibit the solicitation of products or services, the impersonation of another site user, threatening or harassing postings and the use of vulgar, abusive, obscene or sexually oriented language, defamatory or illegal material. You may not post content that degrades others on the basis of gender, race, class, ethnicity, national origin, religion, sexual orientation, disability or other classification. It's fine to criticize ideas, but ad hominem attacks on other site users are prohibited. Users who violate those standards may lose their privileges on . <a href=http://www.jacketscanadagoose.us.com/>canada goose sale</a> Greece reached an accord with creditors on the terms of a third bailout, paving the way for national parliaments to vote on the deal before an Aug. 20 payment falls due to the European Central Bank.After almost two weeks of intensive talks, the four institutions representing Greece's creditors 鈥?the ECB, the International Monetary Fund, the European Commission and the European Stability Mechanism rescue fund 鈥?forged an initial agreement on measures from pension changes to taxes that will unlock about 85 billion euros ($94 billion) in funds for Greece.Before that can happen, agreement on the technical aspects of the deal must be followed with a "political agreement," according to Breidthardt.The yield on Greece's 2.1 billion euros of 3.375 percent notes due 2017 plunged 352 basis points to 14.7 percent. y <a href=http://www.ugg-bootscheap.us.com/>http://www.ugg-bootscheap.us.com</a> Hartlepool, still nicely placed in fourth, 22 points behind the leaders but with a game in hand, have been hit by an ankle injury to opening bowler Callum Prosser who broke down bowling in last week鈥檚 one-wicket defeat at the hands of . <a href=http://www.airmax-90nike.us.com/>nike factory outlet</a> "I've got nurses in my operating room who will use one of those balls instead of a chair," said Michael Maloney, professor of orthopedics and sports medicine specialist at the University of Rochester Medical Center. For those with advanced diabetes, blood glucose levels should be checked every two-hours between dawn and dusk. <a href=http://www.onlinecoachoutlets.us.com/>Coach Outlet</a> The clock is ticking. In six weeks, on June 30, Iranian President Hassan Rouhani and his negotiating partners want to present a treaty on the Iranian nuclear program and the elimination of sanctions that could be agreed upon by the hardliners in Tehran as well as Congress in Washington. The hurdles for approval are higher in the United States, and the US Congress could cause the deal to collapse at any time. o <a href=http://www.canadagooseoutlet.site/>canada goose sale</a> He was wearing what appears to be a light-coloured baseball-style cap with a darker peak with a "NASA" motif, a zip-up cardigan with the motif "Beverley Hills Polo" on the breast, blue jeans and white trainers with a pink stripe. <a href=http://www.moncleroutlet.nom.co/>http://www.moncleroutlet.nom.co</a> AFC scout: Get him out of uniform, you say, 'You play football?' He's short-armed. He looks like a little nose tackle, but he plays pretty good. I sort of like him. They play him down and reduce him when they do that, and he just gets covered up. He has no plan to rush the passer, but the guy can bend his knees. He's tough, strong. Third round would be a little bit rich. More fourth round. To me, he's a standup 3-4 guy. What's intriguing about him is he played a little inside. s Klout is a US company that measures a person's social influence on a score from 1 to 100 using data taken from social media sites such as Twitter and Facebook. <a href=http://www.airmax-90nike.us.com/>http://www.airmax-90nike.us.com</a> The 27-year-old Huseynov is captain of Gabala and a regular for the national team. He last played for Azerbaijan in June in a European Championship qualifier against Norway. <a href=http://www.louisvuittonoutlet.me/>http://www.louisvuittonoutlet.me</a> He then made his way down the steps towards The Bishop Langley pub but went out of view and was found after a member of the public reported a body in the water at about 3pm the next day. <a href=http://www.michaelkorsoutletsonlineco.com.co/>Michael Kors Outlet</a> 110g caster sugar http://www.cheapnfljerseys.site Los Lobos played polkas and Tex-Mex songs sung in Spanish, which were a hit with the dancing crowd. They finished with their signature song, 鈥淟a Bamba,鈥?which they turned into a mash-up with 鈥淕ood Love.鈥?<a href=http://www.outletcanadagoose.us.com/>canada goose jackets outlet</a> As the Ebola crisis escalates throughout West Africa, the Sirleaf administration is now faced with plugging an information gap that grew from such a legacy. w <a href=http://www.AtlantaFalconsJersey.us.com/>Cheap NBA Jerseys</a> Kevin Rowan, regional secretary of the Northern TUC, also welcomed the SSI deal. <a href=http://www.michaelkors-bags.us.com/>Michael Kors Outlet</a> Li Xing, director of the Center of Eurasia Studies at Beijing Normal University, said Moscow is optimistic about its dealings with countries in Asia, especially China, as its diplomatic standoff with the West and the sanctions have undermined Russia's growth. Their reputations are strong. Atlas in Guadalajara was formed in 1916 and has been a mainstay in the top division of Liga MX for 86 years. <a href=http://www.jacketscanadagoose.us.com/>canada goose jacket</a> Agencies like M decins Sans Fronti res (MSF) and the International Committee of the Red Cross (ICRC) are forging ahead with programs in violence-plagued cities in Mexico, Honduras, El Salvador, Guatemala and Brazil places that offer a kind of laboratory, a natural experiment, for humanitarian agencies intent on preventing violence and increasing resilience, Muggah says. McManus was endorsed by former Wisconsin Gov. Tommy Thompson on March 27 at an event celebrating the restoration of the historic Ozaukee County boardroom. <a href=http://www.michaelkors-bags.us.com/>http://www.michaelkors-bags.us.com</a> The piano concertos of Haydn have understandably suffered by comparison to those of his incomparable contemporary, Mozart. The latter left twenty-seven for us to ponder and enjoy, and at least a half-dozen of them can be labeled masterpieces. Haydn鈥檚 catalogue lists eleven鈥攁nd only three of those are of unquestioned authenticity. But Shai Wosner teamed with the WCO in No. 4 and No. 11 and reminded us that Andrew Sewell is not the only one who delights in performing treasures less often heard. The Windlake restaurant previously was Damian's, a Mexican restaurant operated by Damian Carmona and Alba Martinez since 1990; he's Mexican, she's Puerto Rican. About three months ago, the couple changed the restaurant's format. Now, the menu reflects dishes that Martinez grew up with. (Damiani's Taqueria is still on wheels, but the taco truck these days is posted on W. Capitol Drive at N. 20th St. instead of on the south side.) <a href=http://www.ugg-bootscheap.us.com/>Uggs Outlet</a> Studies have shown that young married girls often suffer from sexual and domestic violence, risk their health, and their future opportunities are totally non-existent, explained Ola Perczynska, Nepal s programme manager of , an international NGO based in Kathmandu. g His career also took him to Eastern Europe, including Romania and Slovakia, before time in Morocco supporting a new factory build, working on finding land and investment. <a href=http://www.uggbootsblackfriday.us.com/>Ugg Outlet Online</a> Preheat the oven to 200C (400F/Gas 6). To make the biscuits, mix the flour, butter, sugar, lemon zest, and egg yolks together in a food processor until a soft ball of dough is formed. Rest in the refrigerator for about 30 minutes. Roll out thinly. Cut out eight biscuits with a 7-8cm pastry cutter and bake in the oven on a greased baking tray until golden, for six to eight minutes. Heavy rain granted Trinity a reprieve and the game was delayed after seven innings with La Crosse holding the 9-3 lead. <a href=http://www.coachoutletstoreonline.me/>Coach Outlet</a> Melvin has spent 20 years being a General Manager in Major League Baseball, with the last 13 years being spent in Milwaukee. t <a href=http://www.coachonlineoutlet.us.org/>Coach Factory Outlet</a> (NIACE) to celebrate learning and inspire people to try something new. <a href=http://www.outletmoncler.us.com/>moncler parka</a> As usual tickets for The Falls will be assigned via a ballot system through . q Noah Bullock (3.93) cross country, track <a href=http://www.uggbootsblackfriday.us.com/>Uggs Outlet</a> Durham faced an angry crowd of about three dozen people, most of them black, at the shooting scene on Wednesday night. The crowd demanded answers and questioned whether police used too much force. k But despite their win and current form, head coach Jason Gillespie feels his side still have plenty to give as they chase back-to-back titles. <a href=http://www.moncleroutlet.nom.co/>moncler outlet online</a> Allison, 29, toured the house first with her mother; her parents live across the subdivision. What the couple had in mind was something close to the highway to minimize work commutes and something newer, because my husband isn't handy, Allison said with a grin. <a href=http://www.outletmichael-kors.us.com/>Michael Kors</a> The New Hampshire Division of Forests and Lands harvested several red pine plantations. <a href=http://www.louisvuitton-outletonline.us.com/>Louis Vuitton Outlet</a> ___ e <a href=http://www.michaelkors-bags.us.com/>Michael Kors Handbags</a> The site was formerly the LG Philips factory, which made parts for televisions but closed in 2005 with the loss of 750 jobs to China. <a href=http://www.oakleyonlinesunglasses.us.com/>replica oakley sunglasses</a> TheFirst Gambling Company ofthe East plans toopen its four-story hotel andcasino tothe public inMay, CEO John Wang said ata meeting with theregional government last week, according toa transcript posted online. Remember, if you can鈥檛 beat 鈥榚m, join 鈥榚m! <a href=http://www.louisvuittonbags.nom.co/>Louis Vuitton Outlet Online</a> As a result, the production of cereal crops, such as sorghum, millet, cowpea and rice, dropped by more than 50 percent last year, according to MINADER. Only 132,000 tonnes of cereals were produced in 2014, which is far below the region s estimated annual need of 770,000 tonnes. o <a href=http://www.outletmoncler.us.com/>moncler online outlet</a> Removal of Rubbish-Skips from ALL AREAS would improve the safety of said areas especially when 'Skips' are Full to Overflowing, Obstructing Roads and Footpaths. Several places these 'Skips' are a Menace to everyone especially visually impaired &/or Severely Disabled, through being <a href=http://www.ArizonaCardinalsJersey.us.com/>Cheap Jerseys</a> 4 tablespoons ( stick) unsalted butter, melted
Labor Tech (A Serious User Community)
Kavita is part of an ongoing global self-organized research community that regularly discusses impact of technology on communities. To support their work, this group (Labor Tech) relies on digital tools to communicate about issues by finding, reading, and annotating documents. Their group behaviour naturally has and does heavily involve annotation as a scholarly activity. Alas, the tools that support communication and annotation do not satisfy this community, for all the reasons that are often mentioned: lack of interoperability and search are the major ones.
Two people (Stephanie Steinhardt and Winifred Poster) from Labor Tech participated remotely and explained their issues. This group has also clearly articulated the desire to support and take part as a user group to provide feedback in use cases and design as needed. Suzan has since participated in one of their meetings and is keen on pursuing this real use case that has immense need for annotation support. Their needs are not peculiar to their community and would readily extend to any online community who is working in any area.

Anil
During the workshop Anil was engrossed and then came to some great insights, which is definitely a good read. How wonderful to have a great narrator who understands computer science. How he left computer science after many years to become a writer is a great story itself. Reading his reflection on understanding annotation is worthwhile!

Lambert
Like many wise people, after years of labour and life experience, Lambert has been very reflective about computing and humanity. The [Web We Want] initiative and similar contemplations are getting more and more attention.
Here is Lambert's call for a movement:
Another Website is Possible with pointer to Our Movement
Aslı
Aslı -- a keen observer and articulator -- soaked in much more than the spoken words and made many observations that she shared in pivotal moments.
She compiled some e-words (as she put it). No, not the geeky e-words... On her list were words like essence. "Essence... Of you sitting there, listening, absorbing, pondering, stirring things up, articulating, ... It felt really good. I really appreciated and enjoyed the essence of your presence."
The more I imagine the almost infinite number of possibilities of creating/curating/remaking... in indefinite number of ways/styles/methods/perspectives..., the more Anotat-İST becomes a re-story ever accessed and re-narrated. You may want to check this out.
Fulya
Fulya is another multi-dimensional character and had many contributions.
Education Design and Annotation is her view about how annotation could be used in education. Much of the digital content can be useful from any number of perspectives and characteristics, for which annotation would be most useful.
Dinesh
Dinesh-vari (those you know Dinesh, know he has his own way of saying and doing things). These are his notes:
Re-story was an ongoing theme on Dinesh's mind. Those who understood should tell others. As someone who knows Dinesh for a long time, I know he is usually on to something, even though it usually takes me an awfully long time to get it!
Here is what he says:
How to explain restory... hmm..

Imagine someone who is SWeeTing (annotating) the Web for a while, say using swtr.us. Lets say the repository of these SWeeTs, is accessed through dash.swtr.us.

By Alexis Hope

You can see a note that is associated with the text "history of annotation" in the section Annotation Landscape. This note is mentions Andy Carvin tweeting about John Unsworth giving a scholarly history of annotation at the NYT summit.

For one who is reading the article, this note may not bring about the intended clarity regarding the history of annotation. However, there may be other notes in their own context that might be better in the context. Now imagine that a more contextual note from dash.swtr.us is shown instead - thereby contextualizing the article for the reader. We call this the restory.

These tidbits that are useful in a story, maybe better refered to as notelets. What do you think of notelet as the other word for annotation. A notelet is folded and thus can be open by who all is allowed to open it and such other attributes are possible. A SWeeT is a semantic web tweet, a notelet is the intended annotation, a note is its manifestation in the context of the article.
Check out [Read Fold] as an interesting related tool. Here is an article about it: Journalism + Annotation = ❤️️
---
Simon contributes a brief summary of the 'Leuphana Annotation' workshop and a note on the 'Bureau for Book Liberation' prototyping project.
---
food, tea, food, food! (thanks Suzan!)
[also we need to put up scans of the paper annotations]